Counseling & Guidance Services
(Including Parent Counseling and Training):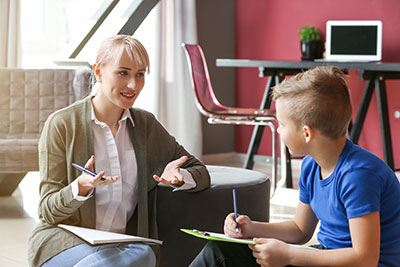 Our PPS credentialed counselors provide Educationally Related Mental Health Services to students with social-emotional needs. Our counselors work in correlation with the student's IEP and/or Psycho Educational assessments and address the critical social emotional needs of a student. Therapy focuses on reinforcing positive behavior in the classroom setting, encouraging healthy peer relationships, introducing positive approaches to participate in classroom activities and generalize skills into the home setting.  Services may include individual counseling as well as counseling and training with parents to identify and reduce problem behaviors.
Educational counseling in which the pupil is assisted in planning and implementing his or her immediate and long-range educational program.

Career counseling in which the pupil is assisted in assessing his or her aptitudes, abilities, and interests in order to make realistic career decisions.

Personal counseling in which the pupil is helped to develop his or her ability to function with social and personal responsibility.

Counseling and consultation with parents and staff members on learning problems and guidance programs for pupils.
All Counseling & Guidance Services are based on the individual needs of the student and in conjunction with the student's IEP. Counseling Services are provided by PPS Credentialed Counselors.  All of our Counselors are subject to the same Background Check and Screening Process as Public School District Employees – including a LiveScan through CA DOJ/FBI and providing a negative TB Test.